MONEY SAVER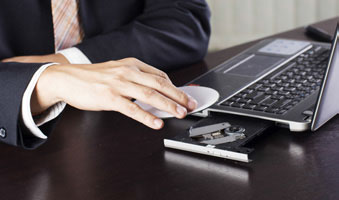 "There was a time when nails were high-tech." ‒ Tom
Clancy
What software tools does your business need to
support normal operations?
Every business requires certain software functions:
word processing, spreadsheet creation, email and
calendar, Web browsing, PDF reader and printer, and
antivirus protection. The options that can fulfill these tasks are almost endless, and range from "freeware"
(sometimes saddled with an unsuspected spyware,
embedded ads, or viruses) to whatever amount you
want to spend. The secret is to match the software to
your business needs and then purchase programs that
are not only intuitively easy to use but actually improve
productivity.
In addition to your company's basic software needs,
each business also has its own niche software requirements
driven by core activities. To determine what
will work best for your business, have your employees
evaluate the effectiveness of the software they currently
use and ask them to suggest what capabilities they
would change or add if it were possible to do so. If
uncertainty still exists after this internal review, hire a
software consultant to evaluate your company's existing
software and make suggestions.
Examine Your Choices
Once you have determined your business needs, you
will want to review the available options and find the
right software solution. With so much software on
offer these days, selecting the right product for you and
your business can be a confusing and even overwhelming
process. It is important to remember that software
should not only be intuitively easy to use but also
should improve productivity rather than creating cost
and frustration. Here are some suggestions to guide
your search:
Ensure that the software you've chosen is compatible
with the software you already use.
Are you looking for Cloud support, or Cloud
technology? Ensure that the software you choose
supports the type of office you currently have (or
intend to have in the future).
Is it necessary to have software that can be used
on your laptop, smartphone or tablet, or across
multiple operating systems? If so, be sure to choose
software that is cross-platform.
Many software companies have multi-user or
multi-machine licencing limitations. Be sure to
read carefully when selecting the software licencing
model to cover all of your office workers and/or
client users.
For essential software, ensure that the developer
offers unlimited support across multiple channels
(Internet, telephone). Also be sure to check the cost
of this support.
In general, it might also be worth considering a
software company that provides remote assistance,
especially if you have users who are not especially
technically savvy.
For more complex software or software that has
sensitive data, it might be worth considering a
platform that allows you to support multiple users
with different permission levels, and/or to be able
to deactivate these users at a moment's notice.
Security of your data should be
your primary concern.
Making the Purchase
Depending on the product, traditional brick-andmortar
and online retail channels can still present
significant opportunities and variety. In the mobile
world, you are most likely to download apps via
the platform-specific app store on your device. PC
platforms now have app stores too and, although
there may be some limitations on the kinds of software
available through an app store, it can certainly
be a very convenient source for software. Software for
PCs can be purchased directly from the vendor either
through its website or a sales team.
Security of your data on the new software should
be your primary concern. Purchases through major
software company websites may be a more secure
way of making your purchase than through a small,
lesser-known vendor. Buying from traditional vendors
is certainly more secure than downloading adware
or "freeware." If you do choose to go through a sales
team, make sure you verify their identity by calling
the company before your appointment to confirm the
salespeople are actually employees of the company in
question.
Additional Considerations
Finally, here are some additional points to remember
when making any software purchase:
Ensure the software will work on your operating
system.
Understand what the software actually does before
making a purchase.
Use freeware at your own risk. Free software can
come bundled with unexpected "surprises", including
spyware, malware and adware. In addition,
freeware is often unsupported, and if something
crashes, you could potentially lose all of your data.
Always read the pop-up prompts on all software
to make sure there are no unexpected tag-alongs
(such as an annoying toolbar) being installed at the
same time.
Do Your Research
Software is essential in modern business, but can be
expensive to purchase and is constantly changing as
new ways of doing old jobs are found. The purchase of
the right software at the lowest cost is something that
requires a lot of research and should be done carefully.
Take your time and do it right.
Disclaimer:
BUSINESS MATTERS deals with a number of complex issues in a concise manner; it is recommended that accounting, legal or other
appropriate professional advice should be sought before acting upon any of the information contained therein.
Although every reasonable effort has been made to ensure the accuracy of the information contained in this letter, no individual or
organization involved in either the preparation or distribution of this letter accepts any contractual, tortious, or any other form of liability
for its contents or for any consequences arising from its use.
BUSINESS MATTERS is prepared bimonthly by the Chartered Professional Accountants of Canada for the clients of its members.
Richard Fulcher, CPA, CA – Author; Patricia Adamson, M.A., M.I.St. – CPA Canada Editor.
Contact us: patricia@adamsonwriters.ca
Sign-up for our MadanCA monthly newsletter!