Electrically heated clothing helps workers remain efficient when temperatures drop

TECHNOLOGY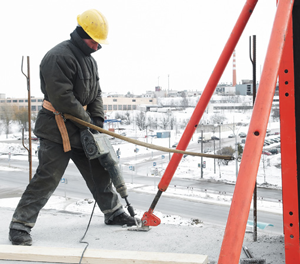 As much as we complain about the weather, Canadians
embrace winter for the beautiful landscapes, delicious
hearty food and the excitement of sports on ice and
snow-covered slopes. From an employer's point of view,
however, the bone-chilling winter weather has a negative
impact on productivity for those who work outside.
Low Temperatures Affect the Body
Worker efficiency and productivity plummet as wind
and lower temperatures creep into the workplace and
the brain redirects heat from the extremities such
as the fingers and toes to the core organs in order to maintain the body's necessary life-supporting temperature.
While it may sound like common sense,
several studies have established that lower temperatures
negatively affect the mental agility and physical
capability of workers:
A Cornell University study established that office
workers made 44% more mistakes when the office
temperature was below 20?C.
A U.S. Army Cold Regions Research and Engineering
Laboratory paper concluded that maximum
productivity for outside workers is reached
between 10?C -15.5?C.
Working Outside in the Cold
While office workers can simply crank up the thermostat
to 20?C or more, this isn't an option for people
who work outdoors. The answer for employers and
employees in outdoor operations may be found in the
rapidly developing world of heated jackets. (Soft-shell
vests, gloves and socks are also available, but the
focus of this article is jackets.)
Heated Jackets
The heated work jacket has, in some respects, evolved
as a result of cordless tools that use high-end rechargeable
lithium ion battery packs. Many cordless power-
tool brands also offer a selection of battery-powered
heated jackets and other garments.
How They Work
Although styles, colours and other features may
vary, the underlying methods of heating the jackets
are similar. A rechargeable battery stored inside the
jacket connects to a heating element made of carbon
fibre, wire or small panels. As the energy flows
through the system, it meets resistance and creates
heat. The heat is transferred through the material
and warms the body.
Features
Manufacturers have built in a variety of features.
A 12-20 volt battery ensures continuous heat (typically
six to seven hours on the lowest setting) for
long work days in the cold. It is possible to purchase
extended-capacity batteries that last longer and can be charged more times than a standard
battery.
Temperature settings are usually low, medium and
high. Naturally, the jacket can provide heat longer
on lower settings.
Rapid recharge capability usually means the battery
will be ready to be used again in 30 minutes.
Heating elements are usually located at the lower
back and in the left and right chest area, although
some manufacturers also provide elements to
warm the pockets.
The jacket's outer shell tends to be made of a
tightly woven wind-and-water-resistant fabric.
Most manufacturers provide a one-year warranty.
Automotive adapters may be available for easy
recharging.
Most jackets weigh about half a kilogram.
Some manufacturers even include a USB port for
charging cellphones.
LED monitors let the wearer know how much
electricity remains.
Heated coats are less bulky
than traditional coats.
Important Considerations
Users indicate that fit is important. If the jacket is
too big, the heat produced will be lost; a T-shirt
alone should be sufficient between the jacket and the
wearer. Extra layers, if needed, should be worn over
the jacket.
In addition to keeping the wearer warm, heated coats
also have the advantage of being less bulky than traditional
coats. Thinner work attire gives better all-round
mobility and enables workers to enter small spaces
when necessary.
People in outdoor occupations such as the construction
trades or sanitation often face muddy or grimy work
sites. All of the jackets can be hand cleaned; a couple
of manufacturers claim their product is washing-machine
and dryer safe provided the batteries and electronics
have been removed beforehand.
Cost
The suggested retail price for most jackets and hoodies
is about $200-$300. If your business already has compatible
batteries and charge packs from existing power
tools, for example, it may not be necessary to purchase
more. Otherwise, an additional $100 to $200 may be
required for batteries and the charge pack.
Sign-up for our MadanCA monthly newsletter!