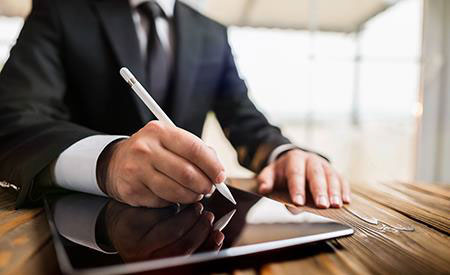 TECHNOLOGY
Owner-managers have adapted quickly to transferring funds electronically, paying invoices online and scanning and sending data to and fro.
When it comes to product delivery, contracts or agreements, many are still relying on hardcopy signatures or faxed copies of paperwork to finalize the deal or witness product or service transactions. This process can be timeconsuming, with the need to attend your solicitor's or client's site, or to print and file shipping or receiving documents.
Signing documents electronically is a great solution for saving time while ensuring they are legally binding.
Two types of signatures are available that help make this process easier: a digital signature and an electronic signature.
Electronic signatures, as the name implies, require the signatory to sign the document which, in effect, has the same legal standing as a handwritten signature.
Digital signatures, on the other hand, utilize user-friendly, secure cryptographic protection on your signature and offer end-to-end privacy.
Both methods produce the same effect: The signed document is recognized as an authentic signature of a
signatory and meets the Canadian standards for electronic signatures.
Canadian law regarding electronic signatures is under the guidance of the Personal Information Protection
and Electronic Documents Act (PIPEDA). It states:
"An electronic signature means a signature that consists of one or more letters, characters, numbers or other symbols in digital form incorporated in, attached to or associated with an electronic document"
"A secure electronic signature is as an electronic signature that

— is unique to the person making the signature;
— the technology or process used to make the signature is under the sole control of the person making the signature;
— the technology or process can be used to identify the person using the technology or process; and
— the electronic signature can be linked with an electronic document in such a way that it can be used to determine whether the electronic document has been changed since the electronic signature was incorporated in, attached to or associated with the electronic document."
Android or Apple?
Most businesses will require electronic signatures with hardware and software that will allow someone to
sign off on a document from anywhere. Whether you have Android- or Apple-based hardware and software,
you can buy a tablet or iPad that's Microsoft Word or Excel -compatible, and allows PDF signing in an
application such as Adobe Acrobat. In theory, they let you start e-signing right "out of the box."
Hardware Cost
Hardware cost for signature pads varies from $150 to $650. The less expensive models provide a basic
touchpad and stylus, while the more expensive approach legal -sized electronic units that will provide an
electronic copy of the document and a hardcopy if needed. Regardless of the unit you're considering, ensure your choice includes high-quality biometric and forensic capture techniques to guarantee confidentiality and reliability.
What to Look For
Most companies that offer electronic signature capabilities should provide the following:
You should be able to provide your signature via all of the business's formats (smartphone, laptop, etc.). Using your finger, stylus, mouse or keyboard makes it valid.
It should enable a complete audit trail with date and time stamps and in-document checkboxes that ensure signees follow the expected procedure in a reasonable timeframe.
Your documents should be secure, encrypted and legally binding in every country.
It should create unique signatures that can only be used by the signatory. (Only individuals authorized by an organization have document access, and all files are encrypted during transit and storage.)
Signatures should be able to be stored securely in the Cloud and at your premises.
User authentication methods should be equal to the transaction's security need.
There should be multi-party signing capability for items needing more than one signature.
You should be able to track the progress of the document.
The solution should be able to integrate with the application your company is already using, such as Google Drive, DropBox or SalesForce.
And the Cost …?
The cost of obtaining and maintaining your electronic signature template is tricky to find and understand.
Most websites will not provide a specific quote. Some will start with a basic per -year cost, but will still require that you contact them to see if your business is able to take advantage of bulk discounts or discuss whether your specific application requires additional features that add to the cost. Companies such as Adobe may offer their service as part of an integrated package. Packages are usually sold for a flat monthly or an annual fee, or are based on the number of senders (similar to costing structures of most software, where more users means higher cost). Or you may pay on a per-signature basis.
As you can see, good business practice suggests that determining what the business requirements are before making a final decision will avoid disappointment and expensive upgrading. You will need to contact the supplier for help determining your specific needs, then work with them to agree on the costs to the organization for such a solution, based on how you will integrate existing systems and your needs for hardware, software, communication and reporting.
If your business has become comfortable with the paperless approach and you're already using it for
banking, invoicing, payroll, purchasing and sales, maybe it's time to "complete the circle" and adopt
electronic signatures, too.
Sign-up for our MadanCA monthly newsletter!