Investment market update: What happened?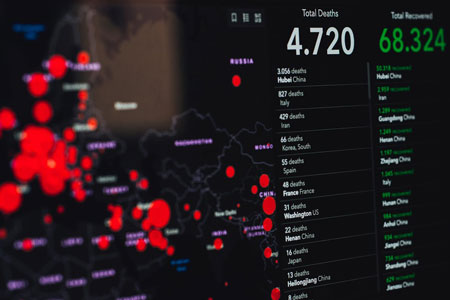 WEALTH MANAGEMENT
There was nowhere to hide in the first quarter of 2020 as the decade-long bull market in stocks came to a dramatic and sudden end in late February. With the novel coronavirus spreading rapidly around the world, economies are closed for business as stay-at-home orders were issued in Canada and abroad.
What is being done to manage the crisis?
Fiscal and monetary authorities in North America are trying to avoid a deeper financial crisis by providing temporary support to financial markets and businesses. At the time of this writing (April 30, 2020), it seems as though policymakers have sufficiently reassured the market as, so far, stock prices have rebounded and recovered more than half of the amount they had declined.
Stock markets
U.S. stocks held up better than Canadian stocks, falling 19.6% (USD$), while Canadian stocks posted a decline of 20.9% (CAD$). Ongoing concerns related to COVID-19 will likely result in continuing market volatility, as companies begin to report their first-quarter earnings and the resulting impact of the COVID-19 virus on their financial performance. Unlike the financial crisis of 2008/2009, financial institutions in North America entered the crisis well capitalized and are a source of strength in this current crisis. Thanks to this strength, the current crisis to date has resulted in a little more than half of the peak-to-trough decline compared to 2008/2009.
Bond markets
Bonds were flat in the first quarter of 2020. Policymakers in Canada and in most other developed market economies eased monetary policy to combat financial market liquidity and credit concerns related to COVID-19-related economic shutdowns. However, credit spreads expanded because of ongoing economic uncertainty. Credit conditions should normalize as policymakers spare no expense to ensure that financial markets function properly, and that liquidity flows where needed.
Canadian dollar
On top of the COVID-19 concerns, the collapse in energy prices has seen investors fleeing the commodity-linked Canadian loonie for the relative safety of the U.S. greenback. With a high correlation between the Canadian dollar and oil and copper prices, until these commodities recover in value, the loonie is likely to be in the penalty box.
Market performance
(as of April 30, 2020, source is Refinitiv Eikon R&A, total Returns in CAD$)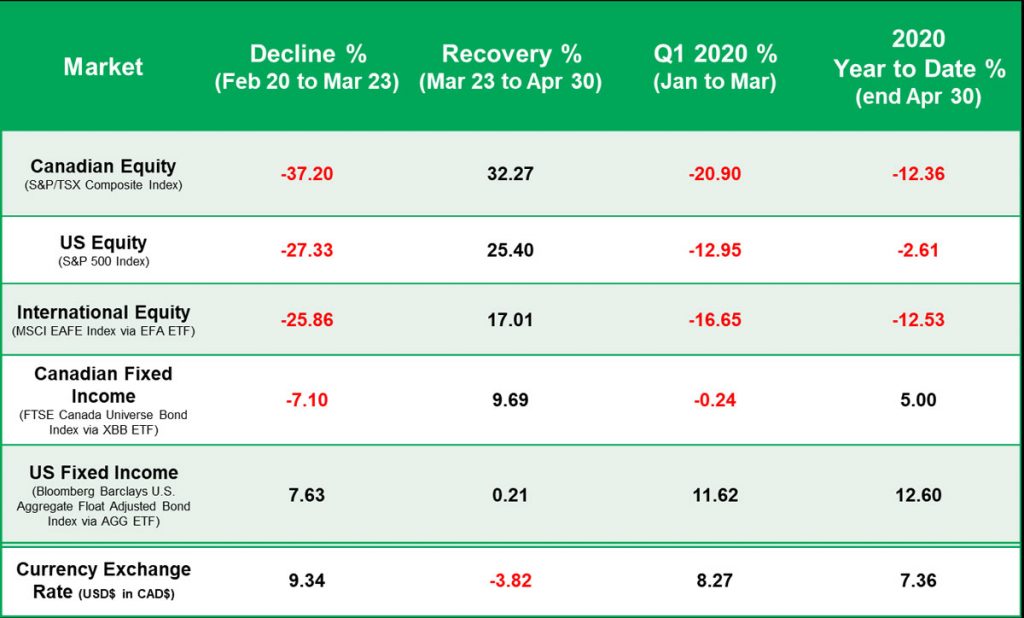 What can you do?
It could be a matter of weeks or months until economies restart and financial markets fully recover. No one knows how long it will take or what the world will look like when we get to the other side. You cannot control financial market fluctuations; however, you can take back control by reviewing your financial goals and individual long-term investing plan to see if they are aligned. History has shown that economic and financial market recoveries can materialize quickly. So, stay calm and focused on your long-term plan, biding your time until the markets move into recovery mode.
Sign-up for our MadanCA monthly newsletter!