Scanning Your Way toward a Paperless Office

TECHNOLOGY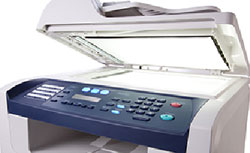 Scanning documents can significantly reduce the cost of handling and storing paper.
Thanks to modern technology, we are moving, albeit slowly, toward a paperless office. Although this transformation within the workplace has been anticipated for decades, we are still bombarded with paper every day. Using paper can often be convenient; however, paper use comes at a price. Although the cost of an individual box of paper may not be significant, over time, paper costs can add up both for the paper itself and also for the handling, sorting, filing and, of course, long-term storage. As well, the cost of destroying paper documents must be considered. Document disposal is usually carried out for two reasons: to avoid storage costs and because the legal retention period has expired.
Until everyone embraces digital media, businesses should consider scanning documents to reduce storage costs.
There are three basic types of image scanners suitable for office use: flatbed, film, and document scanners. Each has been designed for a specific need.
Flatbed Scanners
A flatbed scanner has a flip-up top similar to that of a photocopier and is used to scan documents horizontally. A document is placed face down on the glass, which is illuminated, and scanned from below. Since the moving parts are concealed beneath the glass, flatbeds have the ability to scan irregularly shaped or even damaged documents. Flatbeds also tend to offer higher native resolutions; professional models can offer excellent colour fidelity, making them well suited to scanning photographs or other high-detail documents.
Flatbed scanners are available in a very wide range of models, depending on your needs and budget. Basic models are fairly affordable, starting at less than $100, but these may be limited in terms of speed and resolution and can often scan only a single page at a time. Every office should have at least a basic scanner, although, if you are planning to scan many documents, you may wish to consider a model that can support greater speed, higher resolution and, especially, a document feeder that allows you to queue and scan several pages in sequence automatically. Some manufacturers build flatbed scanners into their multifunction printers (MFPs). Depending on your scanning needs, an MFP may provide an effective solution, although, with an all-in-one it's important to consider your printing requirements as well (e.g., inkjet vs. laser, duty cycle, pages per minute, etc.).
Film Scanners
A flatbed scanner may be suitable for scanning printed photographs while a dedicated film scanner may be able to capture higher resolution and better colour depth from original negatives or positives (slides). Because negatives and slides are usually smaller than photographic prints, dust and scratches can be magnified and disfigure the final print. Many scanners include software that allows the user to "touch up" or "clean" old photographs. Traditional photo-editing software such as Photoshop or GIMP can, of course, also be used.
Document Scanners
When you need to scan a lot of multi-page documents, a document scanner will make the task much easier. Document scanners allow you to queue multiple pages at once with an automatic feeder and tend to be faster than flatbed models, although that speed can come at the expense of reduced resolution. A key differentiator worth noting between the flatbed scanner and the document scanner is the latter's ability to scan both sides of the page simultaneously, also known as duplexing. This feature is essential when scanning documents with information on both sides of the page. For double-sided scanning, flatbed scanners require the user to turn over each page manually.
Features to Consider
Before purchasing a workplace scanner, you need to consider:
minimum and maximum document size that needs to be supported
speed
colour support
resolution
roller assembly life
operating system compatibility (e.g., Windows, Mac)
connectivity (e.g., USB, Ethernet, Wi-Fi)
Some Documents Cannot Be Scanned
While ideally we would like to be able to digitize everything, there are practical limitations to what we can or cannot eliminate. Certain documents, such as signed contracts, loan agreements, guarantees, demand notes, mortgage agreements or powers of attorney are required by law to be kept in hard copy.
Maintain a reader that can access and produce a usable copy.
Canada Revenue Agency Requirements
Traditionally, financial records, along with any supporting documents, were kept solely in paper format. It is now acceptable to keep financial records in digital format. For example, scanning receipts or invoices and storing them on your computer is permitted by the Canada Revenue Agency (CRA). Financial records originally produced electronically and kept in electronic and readable format (i.e., you must maintain a reader that can access and produce a usable copy) are acceptable as well. All digital records and scanned documents should be clear and readable, and kept according to the CRA guidelines. For details, see the CRA's Keeping Records guide: http://www.cra-arc.gc.ca/tx/bsnss/tpcs/kprc/menu-eng.html
The Future
Ensure the documents you scan will be accessible on future software or operating systems. Today, the PDF format is the standard for document retention. However, it is a good practice to include a copy of the software used to read or scan the documents on the storage media along with the documents being stored. As always, it is considered a best practice to retain backup copies of all documents physically stored in different locations, such as a secondary hard drive or flash drive kept in a different office or a cloud-based service.
Sign-up for our MadanCA monthly newsletter!