The Best Property Managers Are Accomplished Jugglers
Allan Madan, CA
Dec 19, 2013

0 Comments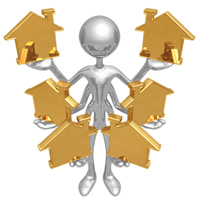 Even though real estate investing is not the "cash cow" that some promoters would have you believe it is, rental properties can provide a careful investor with a very nice income stream and a solid real estate portfolio. Real Estate Investing for Dummies has a "Cheat Sheet" that provides some proven tips for success.
Becoming an effective property manager, however, is a bit like being a juggler. Basic concepts are not difficult, but learning when to toss a ball, and how long to hold another one, can spell the difference between being competent and being great.
Jim Collins, the management coach who famously said "Good is the enemy of great" is also credited with saying that "managing problems can only make you good" whereas learning to build opportunities is the only way to become great, according to Torchlms.com.
Keeping the Balls in the Air
In the field of real estate investing and property management, one path to disaster is to wait for problems. As a landlord, your goal is to always maintain your properties in prime condition, ensure that you have renters who pay you on time, and realize a fair return on your investment now and in the future. An important resource for you as an owner, especially if you're just entering the field, is an organization such as the AAOA (American Apartment Owners Association), which has a wealth of information and tools you can utilize to screen tenants, procure documents, exchange information with professionals, and keep up with the latest trends.
A standard rule in the real estate rental field is to utilize a yearly income figure of 10 times the monthly rental rate as your target goal. If your expenses — including mortgage, repairs and maintenance, landscaping and yard work, taxes, insurance, advertising, legal fees and other costs — are in line, you should realize a positive return on your investment, according to HSH.com.
Over the long term, if your property or apartment complex enjoys a consistently high occupancy rate with low turnover – in effect, if your units are consistently occupied — you should see a reasonable return on your investment, as well as property appreciation.
Find Those Opportunities
A U.S. Census Bureau survey of property owners reports that the primary reason for acquiring properties was for the income derived from the rents. It becomes imperative, then, to minimize lost income resulting from vacant units. Without becoming bothersome, it is perfectly acceptable to call, or even to drop by occasionally and visit with your tenant. Ask if they have any problems or concerns. Near the end of the lease term, you can ask if they will renew the lease.
This is an appropriate time (if your tenant is moving on) to ask about showings to secure a new tenant. If the current tenant agrees, you can often reduce the "empty unit" time to just a day or two, allowing you to maximize your occupancy ratio.
Professional property managers have also had good luck contacting the human resources departments of major employers in their area. Rather than simply putting a "For Lease" sign in the yard, consider marketing a property directly to a business for use by executives on short term assignments or temporary duty. Rental furniture is available in all cities for such use.
Additional Essential Tasks
Complete a Property Condition Report before move-in, and again immediately after a tenant's move-out. Keep copies of both reports in the tenant's file, and be scrupulous about detailing any damage during the lease term, taking photos if necessary.
Then address any repair and maintenance items immediately by lining up repair experts in advance. Small problems only become bigger problems. Follow up is almost as important as the initial repair. Be certain that you have addressed a situation completely and, if necessary, have the tenant stipulate to the work's completion in writing, as Bankrate.com suggests.
Related Resources