How to defer capital gains tax with section 85 rollover
Allan Madan, CA
Nov 30, 2015

20 Comments
If section 85 didn't exist what would happen?
Without the rollover, a sole proprietor would sell their assets to a corporation for current market value instead of initial purchase price. This would result in the proprietor paying taxes on the assets difference in value. The sole proprietor is only trying to transferhis or her own assets. However, the CRA requires the assets to be sold to the corporation. Without the rollover the proprietor would be selling the assets to their corporation and be taxed on the gain based on the current market value that the asset was sold for.
For example, a sole proprietor has a single asset of a customer list worth $100,000. The cost amount is $0 to build the list. Without the section 85 rollover, the asset is sold with the profit of a $100,000 of which 50% is taxable. By using the rollover, the business owner does not trigger the tax, and is allowed to sell the asset to the corporation for the initial purchase price.
How is the fair market value determined?
The fair market value of your assets can be determined through appraisal or by examining its future cash flows.
What assets should you rollover? What assets shouldn't you rollover?
The following can be transferred using section 85(1):
Capital Properties

Property that increases in value by favorable market conditions and any other property that when disposed of will result in capital gains.
For example, Jane purchased land for $100,000 in 2005. It is now worth $1,000,000. Although there is a profit of $900,000 on the asset, using the rollover it can be transferred to a corporation for its cost amount of $100,000.

Eligible Capital Property

This refers to intangible assets.Examples include goodwill, customer lists, intellectual property, trademarks etc.

Inventory

Inventory that has increased in value from its initial purchase amount.
Assets not ideal for this rollover include:
Accounts receivable

Money owed to a company by its customers. For example when a company allows a payment to be paid over a course of days instead of at the time of purchase.
Accounts receivables can be transferred via section 85(1); however, it is more beneficial to elect a transfer under a section 22 election.

If accounts receivables are transferred under section 85(1), they are treated like assets that decreased in value during unfavorable market conditions with capital losses. Since this is a transfer to a related party, this qualifies as a superficial loss and is not allowed.
With a section 22 election, losses on accounts receivable allow the transferer to get a business loss instead. To qualify for this election, 90% of the assets of the business must be transferred.

Depreciable assets with a terminal loss

An asset whose market value is less than its depreciated value. For example, Jane purchased equipment in 2005 for $50,000. It has depreciated  in value to $30,000. An appraiser determined the market value of the equipment is only $10,000. Since there is no profit on this sale, a rollover is  denied and it is better to sell for boot (cash) outside of the rollover.

Non-depreciable assets with accrued capital losses

This includes cash and prepaid assets (i.e. prepaid insurance, prepaid advertising, land and buildings that are bought for the intention of  selling).
For example,a sole proprietorship has a plot of land to park its company's rucks. The land was bought for $90,000 and is now worth $50,000.  This qualifies as a superficial loss (losses incurred from transaction between related parties) and is thus denied under section 85(1).
What are the conditions you need to meet under Section 85? If you don't meet them, can you use this section?
In order to perform a section 85(1) rollover, the following conditions must be met:
The consideration received (both share and non-share (cash)) must equal the Fair Market Value of the assets given up. For example, Jane owns a sole proprietorship with assets that are worth $80,000 now, but were initially purchased for $30,000, and would like to incorporate the company. Jane can take advantage of a section 85 Rollover by transferring her assets to a corporation in exchange for receiving shares of the corporation and cash that together are worth $80,000.
The corporation receiving the assets from a rollover must be a taxable Canadian Corporation (i.e. incorporated in Canada).
Consideration received by the proprietor from a rollover must include at least one share from the corporation.
Example:
Chun Li has decided to incorporate her proprietorship and she is looking to avoid tax on the transfer of the assets to the corporation. She owns the following assets:
| | | | |
| --- | --- | --- | --- |
| Asset | FMV | Initial Purchase Price | Depreciated Value Today |
| Cash | $30,000 | N/A | N/A |
| Inventory | $23,000 | $8,000 | N/A |
| Equipment | $16,000 | $20,000 | $15,000 |
| Goodwill and Client List | $100,000 | $0 | N/A |
| Furniture | $1,000 | $10,000 | $8,000 |
| Total Assets | $170,000 | $38,000 | $23,000 |
To avoid tax on the transfer, Chun Li would like to transfer the above assets to her new corporation in exchange for common shares of the company, with each share worth $1 and cash.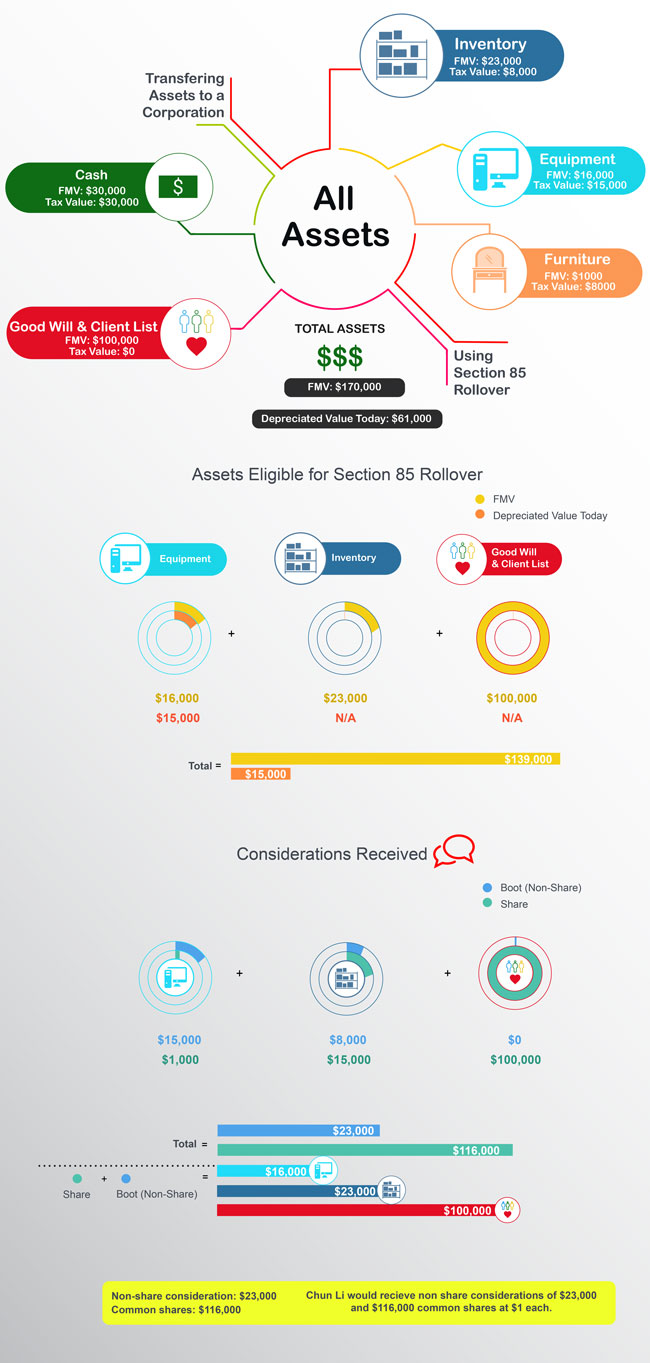 Solution:
Let's start off by analyzing the assets to determine their eligibility for a transfer to Chun Li's corporation under section 85(1).
The assets that are eligible for the section 85 rollover are inventory, equipment and goodwill. This is because they have accumulated capital gains and fit under the categories of capital property (i.e. equipment), inventory and eligible capital property (i.e. goodwill).
Ineligible assets include cash and furniture. Cash is not a capital asset and although furniture is, it, has no added gain. The rollover would proceed as so:
Considerations Received

Assets

FMV

Tax Value

Elected Amount

Boot (Non-Share)

Share

Total

Inventory
$23,000
N/A
$8,000
$8,000
$15,000
$23,000
Equipment
$16,000
$15,000
$15,000
$15,000
$1,000
$16,000
Goodwill
$100,000
$0
$1
$0
$100,000
$100,000
Total
$139,000
$23,000
$23,001
$23,000
$116,000
$139,000
Notes:
The elected amounts for capital property are equal to the depreciated value today
Since goodwill had a tax value of zero, the elected amount has to be $1 in order for the election to be valid
The non-share consideration (boot/cash) cannot exceed the elected amount.
Shares were transferred under each election
In the end, Chun Li would receive non-share considerations of $23,000 and 116,000 in common shares at $1 each. For more information on incorporating a proprietorship, refer to our article Converting a Sole Proprietorship to a Corporation.
Related Resources