Organize Your Finances through Wave Accounting
Allan Madan, CA
Feb 3, 2015

0 Comments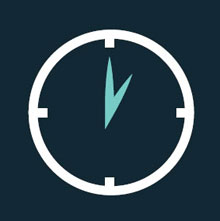 As a small business owner, you always have countless to-dos on your plate. Unfortunately, sometimes critical tasks like accounting end up getting neglected — leading to a mad dash come tax time.
Fortunately, with new apps in the marketplace, like the free accounting and invoicing app Wave, you don't need to devote hours to staying on top of your finances! In fact, in just a few minutes, you can make major steps towards making your business more organized and professional.
Read below to see how you can use that spare minute or two wisely, to organize your finances in a flash.
1 minute
: Capture that receipt
You get a receipt for a key business expense, and you keep it in your bag, wallet, or binder to file later, right? Wrong!
Use a receipts tool to immediately store your receipt online. Even better, use a receipt tool that pairs with an accounting tool, and you can have impeccable records in seconds.
2 minutes
: Give your accounting a jumpstart
If your accounting system relies on hours pouring over a spreadsheet, or getting frustrated with your accountant at the end of the year when he asks questions about your post-it notes, bags of receipts and bank statements, there's a better way.
Connect your bank account to an online accounting system. Then, watch as the magic happens. All of your expenses will load automatically, meaning you're well on your way to organized accounting — in only two minutes.
3 minutes
: Create track-able invoices
So you've taken the first step, and started creating invoices for your customers instead of just asking for a check. Good? Absolutely, but you can do more.
Instead of using a free template builder, use proper invoicing software. You'll suddenly be able to keep track of those invoices, and get better insights into who's paid, what invoices are overdue, and even if your customer has viewed the invoice.
4 minutes
: Start accepting credit cards
A few years ago, high fees and stressful set-up processes barred small businesses from accepting credit cards. Now, it's never been easier.
With clear no-nonsense fees that are lower than ever, and simple set-up processes, you can be accepting credit cards in under four minutes!
5 minutes
: Organize your transactions
One step left — organize your transactions. Jump into that online software you connected your bank account to, and organize your expenses.
Do this every few weeks, and you'll save yourself hours of time and frustration come tax time.
For free software that does all of this and more, check out Wave at WaveApps.com.
Related Resources