Tax Implications for US Citizens working in Canada
Allan Madan, CA
Feb 14, 2013

80 Comments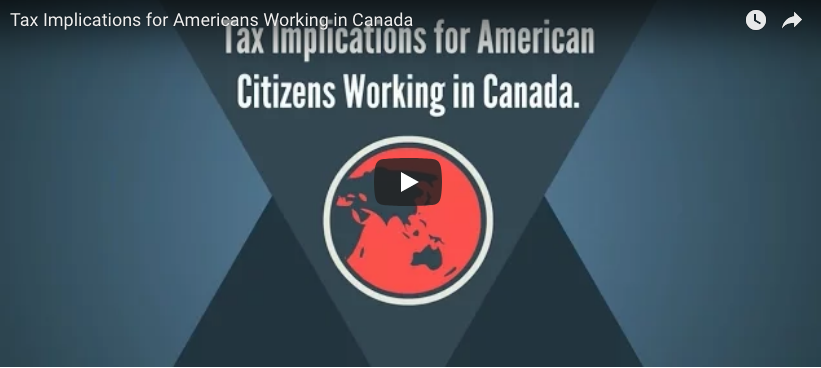 US citizens working in Canada have to file a Canadian tax return and pay Canadian tax.
If you are a US Citizen working in Canada as an employee, you should be aware of what tax obligations are applicable to you or you could end up facing large penalties.
Here are the tax-related responsibilities that you may face in Canada and in the United States.
Filing Canadian Tax Return – April 30
US citizens are required to file a Canadian tax return if they worked in Canada. The Canadian tax return will be due on the April 30th of the following year. Unlike the US, only one tax return is filed for both Federal and State taxes in Canada.
Statement of Employment Earnings – February 28
Note that your employer will issue a T4 Slip (statement of Canadian employment earnings, similar to a W2) to you by February 28 of the following year. The T4 Slip is used to prepare your Canadian tax return and calculate Canadian taxes owing (Federal and State).
Residents & Non-Residents of Canada
As a US citizen, you can either be a resident or non-resident of Canada, both of which have differing tax implications.
If you are deemed to be a resident of Canada, then you are required to pay tax on your world-wide income [income from Canada, the US, and other countries]. To be considered a Canadian resident, you,
must have significant ties to Canada (e.g. your permanent home is in Canada, your spouse and child(ren) have moved to Canada with you); or
have resided in Canada for 183 days during a calendar year.
Non-residents of Canada are only liable for tax on employment income earned in Canada. If you are a non-resident working for an American company in Canada, there are additional tax considerations; for more detailed information please consult our article on tax implications for US Companies expanding to Canada.
U.S. Tax Responsibilities
The United States treats all of its citizens and green-card holders as residents of the US for tax purposes. As residents of the US, you must pay tax on your worldwide income. Note that your Canadian tax residency status (i.e. non resident or resident of Canada) has no bearing on your US tax residency.
Normally, as a US resident, you must file a US personal tax return by April 15 of the following year. However, if you are a US citizen or a green card holder working in Canada, and have significant residential ties to Canada, your filing deadline is automatically extended to June 15 of each year. In addition, you may also file for an extension of the filing deadline to October 15. The drawback of extensions is that interest on any tax balance owing will begin accruing on April 15.
U.S. Tax Disclosure Requirements
As a US Citizen or Green card holder living in Canada, you are required to disclosure a substantial amount of financial information to the IRS. Below are some of the disclosures that may apply to your situation:
1. Form 5471 – Information Return of U.S. Persons with Respect to Certain Foreign Corporations
This form is used to disclose ownership in any non-US corporations that an individual and certain family members control.
2. Form 8865 – Return of U.S. Persons with Respect to Certain Foreign Partnerships
This form is used to disclose an interest in any foreign Partnership that an individual holds.
3. Report of Foreign Bank and Financial Accounts
This form must be filed separately from your tax return if the total value of your foreign bank and financial accounts (e.g. RRSP, brokerage accounts, TFSA, etc.) exceed US$10,000 at any time during the year.
The due date is June 30 of the following year
4. Specified foreign financial assets
This form must be filed along with an individual's US income tax return if the person has more than $50,000 worth of foreign assets (If you are a US citizen living in Canada, the $ threshold is higher).
Specified foreign financial assets include bank accounts, RRSP, Pension accounts, etc.
As you can see, US tax return and disclosure requirements can be complex and penalties for failing to file, very significant. Therefore, we highly advise that you consult a US-Canada tax expert if you are a US citizen working in Canada.
We can assess if you or your company is carrying on business or has a permanent establishment in the United States.
Please contact us for a free consultation by using form below.
We are secure and confidential. We respect your email privacy.
* Required field
Related Resources